A Story of Determination
---
For over 50 years, the vision of the Fort Edmonton Foundation has been to create and promote an internationally acclaimed living history experience. During this time, our mission to celebrate Edmonton's vivid diverse history by fundraising in support of the development of our capital projects has been embraced by all Albertans. We captured these 50 years in a keepsake, limited edition hardcover book, Our Living History.
Take a journey through the history of Edmonton and the dream-to-reality of Fort Edmonton Park. Learn about the original Fort Edmonton, its dismantling and the purpose of the Fort Edmonton Foundation to restore, preserve and share history.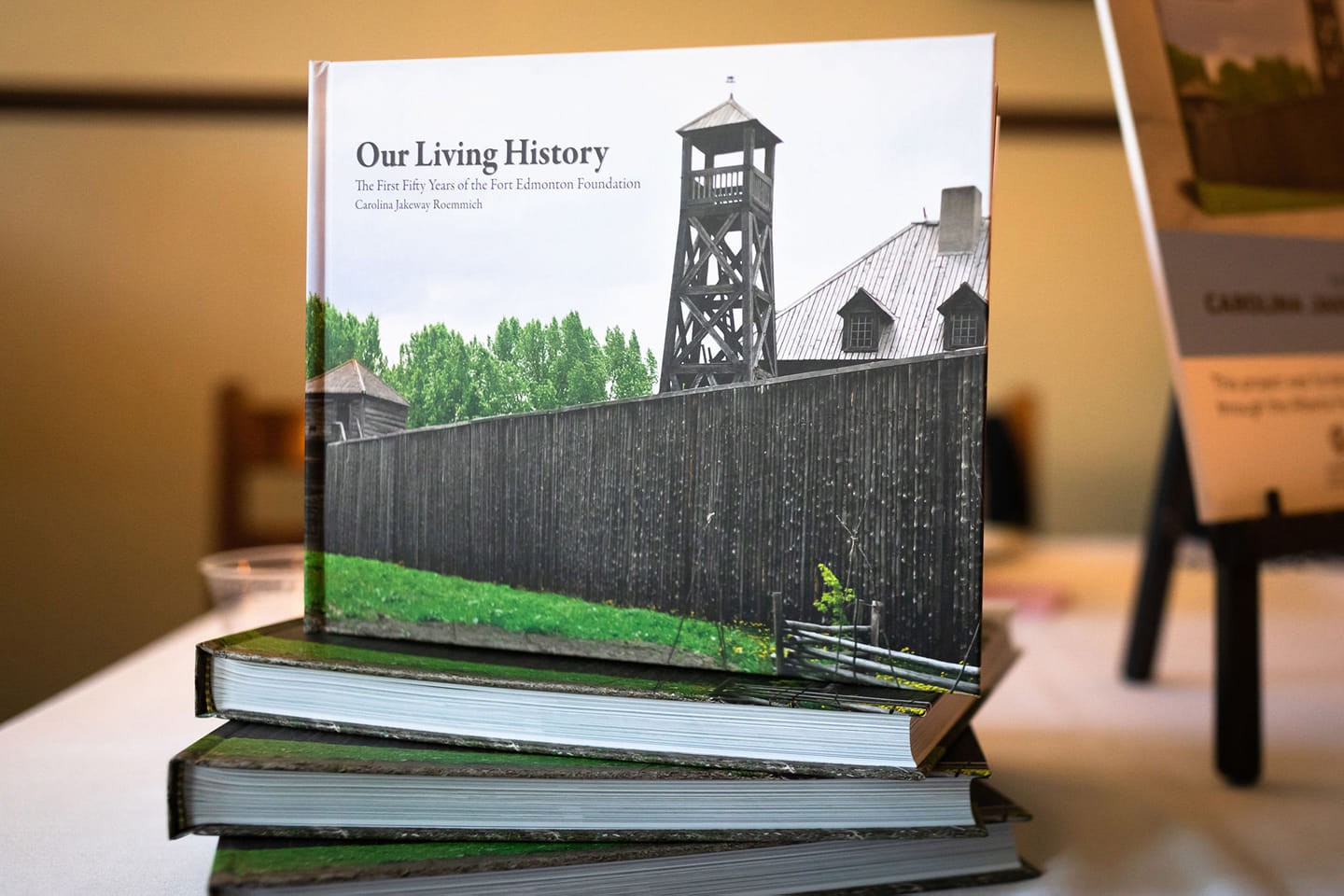 Read about Edmonton's Rich History!
---
Author Carolina Jakeway Roemmich has eloquently documented the historic achievements of Edmontonians who have come together to build and maintain Fort Edmonton Park. This is a story of legacy, passion, and commitment to the preservation of something deeply important – Our Living History. You will find 335 pages filled with rich interviews and captivating images gorgeously displayed by designer, Cassie Peters.
Our Living History: The First 50 Years of the Fort Edmonton Foundation
$50 + gst
Get Your Copy Today!
---
You can also purchase your copy from any of the following locations:
Fort Edmonton Foundation
We will arrange delivery (free in Edmonton) or curbside pick-up at Fort Edmonton Park.
Email us
Phone: 780-496-6977
Audreys Books
10702 Jasper Ave.
Edmonton, AB T5J 3J5
Email: audrey@audreys.ca
Phone: 780-423-3487
Glass Book Shop
Edmonton City Centre West
10200 102 Ave Unit C215
Edmonton, AB T5J 4B7
Order Online
Email
Why does this place, this bend in the river, so dearly affect the hearts of all those who have lived here? Why is it worth the millions of donated dollars, and the fifty-year investment of the hundreds of Fort Edmonton Foundation members who have so willingly devoted their time to ensure its legacy?

Like the palisades of the old fort, this place recalls a time when families first arrived, when strangers met and became business partners, friends, or even sweethearts. It brings to mind times of hardship, endurance, struggle, and peace. And it is full of stories grandparents can share with grandkids, old-timers can share with newcomers. These stories are made to be shared with people from other cultures and who speak other languages. Because sometimes a place, a tanned hide, a wooden hewn log, a stone oven, a hundred-year-old streetcar, or a train whistle can convey what can't be said with any number of words.

– Page 296
About the Author
---
Carolina Jakeway Roemmich is a local historian who has endeavoured to spark interest in the past for almost two decades. Lead researcher for the award-winning book Edmonton In Our Own Words authored by Linda Goyette, Roemmich continues to explore, champion, and honour the stories unearthed by questions such as "I wonder what it used to be like?" and " How did people live back then?" and "Why does that matter?"
A special thank you to all the people involved in making this book come to fruition.
---
Countless hours of dedication were given by gathering information, listening and recording interviews, reviewing and editing. Please read the Forward by Tim Spellliscy for the extensive list of all involved. It truly is a community collaboration. The Fort Edmonton Foundation gratefully acknowledges the generous financial assistance of the Government of Alberta through the Alberta Historical Resources Foundation.