Steam Train at Fort Edmonton
The steam train at Fort Edmonton Park is here today because of Bill Graham's dream and determination. He brought the 1919 Baldwin Locomotive and its tender to Fort Edmonton Park in the 1970s. In 1976, he heard of an old steam locomotive that was partially immersed in mud in a Louisiana swamp. He set out in semi-truck and drove to Lousiana to pick it up and bring it back to Edmonton. The process took two months and many back roads.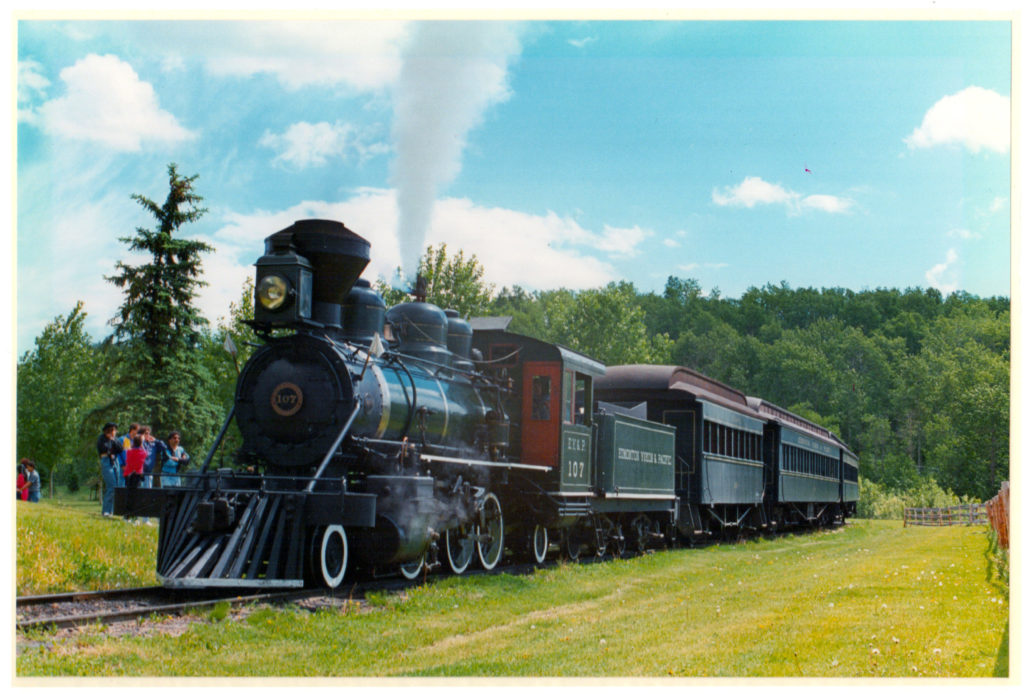 Locomotive 107 is a prairie type (2-6-2) locomotive built by the Baldwin Locomotive Works at Philadelphia, Pennsylvania. Built in 1919 for the Industrial Lumber Company in Oakdale, Louisiana, it worked there for fifty years until it was abandoned.
In 1977, Bill Graham met with then Edmonton Mayor, Terry Cavanagh, to get approval on bringing the train to Fort Edmonton Park and the Fort Edmonton Foundation endorsed his proposal to build and operate the railway in the Park. The locomotive was completely rebuilt by Bill and his team, and the track was built around the Park. The train started operating in May of 1978, and a few months later, Bill sold it to the Fort Edmonton Foundation. It has been owned by the Foundation ever since, and to this day is a favourite attraction at Fort Edmonton Park.
Today, the steam engine transports visitors around the park on the four-kilometre track of the Edmonton Yukon & Pacific (EY&P) Railway, a line that pays homage to Edmonton's first railway. It pulls two passenger cars, an open-air car and a caboose, and is able to reach a speed of 60km/hour on level ground.
Each train car has its own history and purpose:
Passenger car one: 1914 Grand Trunk Pacific (GTP) Day Coach 304 was acquired from Northern Alberta Railway (NAR)
Passenger car two: Coach 300 was acquired from Canadian National Railway (CNR)
Open-air car: Caboose 210 is a remodelled CNR yard caboose outfitted so passengers can stand at the window
Standard caboose: CNR Caboose 308 was retrofitted in 1996 to accomodate passengers with reduced mobility
Locomotive 107 Steam Train at Fort Edmonton Park – Specifications
Originally designed to burn wood, it now burns oil to heat the boilers.
The wheel arrangement is 2-6-2. There are two leading wheels, 6 large driver wheels, and 2 trailing wheels.
The 2 cylinders produce 1100 horsepower.
The locomotive weighs 112,000 lbs and the tender weighs 60,000 lbs.
The tender holds 2500 gallons of water to produce steam and the fuel tank holds 900 gallons of oil.
The total length of the engine and tender is over 51 feet with a height of 14 feet.
Learn more about Edmonton's steam train at Fort Edmonton Park
Do you want to learn more about Bill Graham's fascinating story of bringing the train to Fort Edmonton Park? Read about it in the keepsake book, 'Our Living History, the first 50 Years at the Fort Edmonton Foundation.' Click here to purchase your copy today!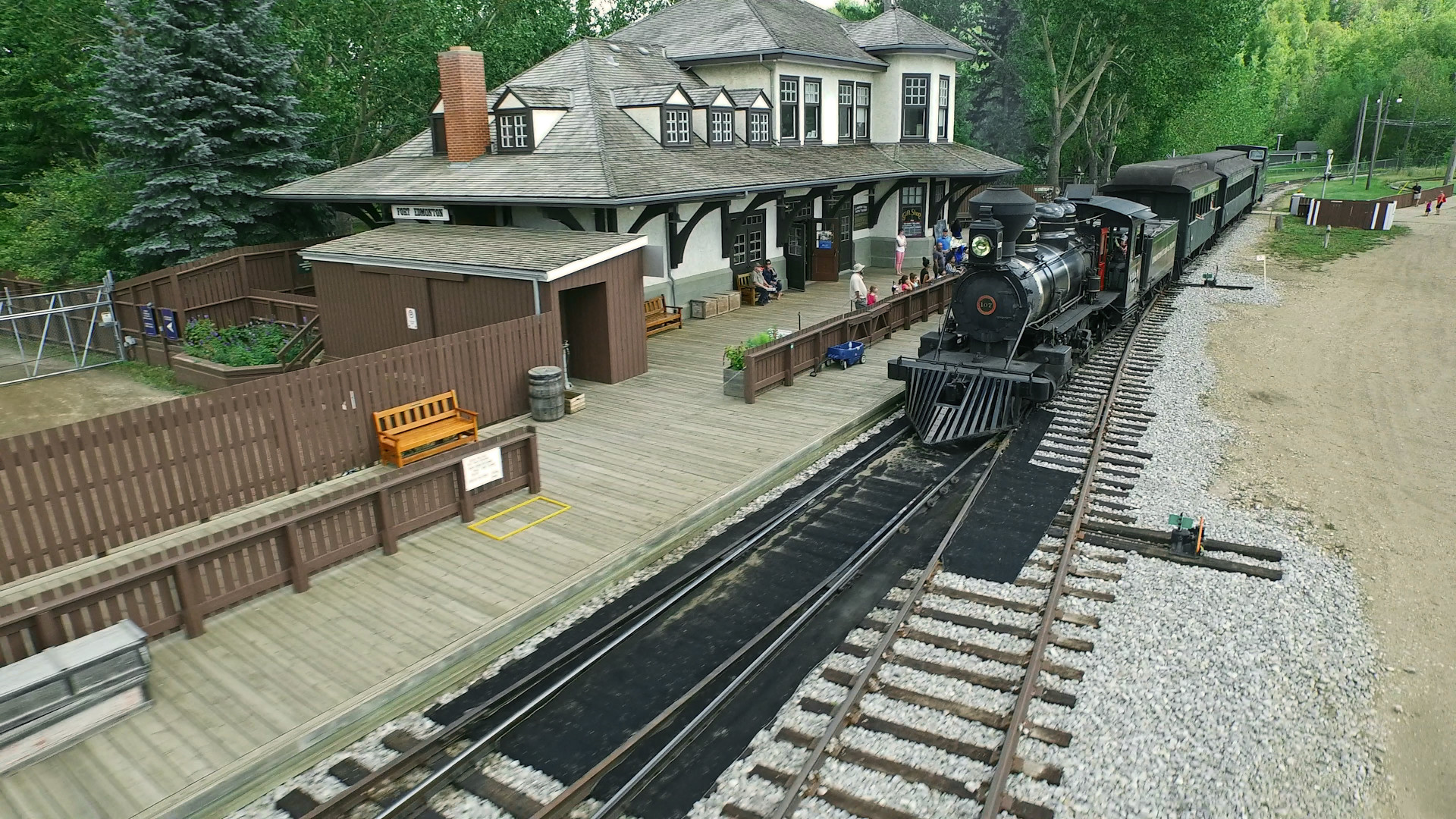 Watch the video about Bill Graham's fascinating
journey to bring the steam train to Fort Edmonton Park.
Bill Graham has always been a train buff from a very young age. Watch how he brought Locomotive 107 to Edmonton and built a track on city land at Fort Edmonton Park. Over the years, he has built and maintained the steam train along with staff and volunteers of all ages. His story is an inspiration for train lovers around the world!